This Lesson's Worksheet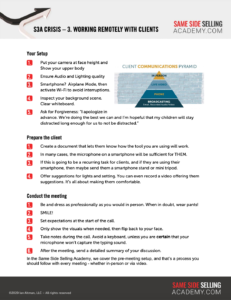 Download (PDF, 117KB)
Marcus Sheridan offers great insight about video-based communication here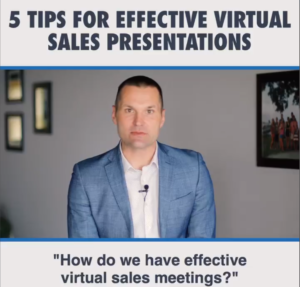 Mark Bowden provides tremendous guidance about properly using video while you work from home.
Check out his course for further detail.
You can learn more about a program he offers (no - not an affiliate link - I just believe in his work) at
Virtual Meeting and Presentation Training for Working From Home
In these crazy times, you might be working with potential clients in a different way than you had in the past, In fact, you might be limited to working with them via phone or video. Here are some tips for working remotely.
First - think of the communication options as a pyramid broken into four levels. The pinnacle is the face-to-face, in-person interaction. At the base-level is broadcasting:  Email blasts, podcasts, and recorded videos. At the next level is Voice-only synchronous communication like phone or VoIP. We're used to that. The next best thing to in-person, face-to-face is real-time video.
If you and your clients are not yet ready for in-person meetings, then live video is the next best thing. There are some keys to this. I've seen some fantastic videos lately on LinkedIn from my good friends Mark Bowden and Marcus Sheridan. I've linked to both of their videos under additional information within this lesson.  But, here's the abridged version of a combination of their brilliant advice.
I've created a PDF under additional information that you can download after this lesson.
First - your own setup. 
Put your camera at face height - even if you have to prop-up your machine on a box.

If you have enough room, sit far enough away to show your upper body including your arms and hands. Mark Bowden has a brilliant explanation of why that matters.

Audio is just, if not MORE important, than the video quality. Don't rely on your machine's audio. You can grab many microphones for under $100 that will deliver great quality. Remember that large capsule microphones are intended to pick up all of the noise from the room. In most cases, you'll be best served by a dynamic microphone or a lavaliere microphone. We'll include some of our favorites under the "Additional Information" link under this lesson.

Natural lighting from behind the camera is great. This setup that I am using is a bit overkill for your typical meeting. But, you don't need a professional studio setup.

Sometimes, your phone can serve as a perfect camera for a video conference. Use WiFi after putting it in airplane mode so that you don't receive a phone call or text to interrupt your video conference. Be sure to get a tripod or holder suitable to your environment. If using your computer, an external HD camera is probably better than what comes on your computer. Test them in advance.

Consider the scene you are showing. Grab a backdrop if needed. But, don't have a background of a messy office, a pile of clothes, or family members running around. If you have a whiteboard in the background, make sure it is completely erased. I've seen people lately with highly sensitive information in the background.

If you do have a complicated environment, ask for forgiveness as the start of the call: "I apologize in advance. Under the circumstances, we're doing the best we can and I'm hopeful that my children will stay distracted long enough for us to not be distracted."
Now prepare the client
Create a document that lets them know how the tool you are using will work. In many cases, the microphone on a smartphone will be sufficient for THEM.  This doesn't mean you should use that. You want to sound as close to perfect as possible. If this is going to be a recurring task for clients, and if they are using their smartphone, then maybe send them a smartphone stand or mini tripod.

Offer suggestions for lights and setting. You can even record a video offering them suggestions. It's all about making them comfortable.
Conduct the meeting itself
I shouldn't have to say this, but this is a business meeting. Shower, dress professionally. Treat it like any other in-person meeting. Whether you need to or not, wear pants.

SMILE 

Set guidelines at the start of the call. The best interactions are face to face. So, if you plan to share your screen to show visuals, only show the visuals when needed, then flip back to your face.

Take notes during the call, just as you would in person. But, use paper and pen instead of a keyboard, unless you are CERTAIN that your microphone won't pick-up the typing sound.

After the meeting, send a detailed summary of your discussion. 
Like most communication, communicating expectation management is critical. In the Same Side Selling Academy, we cover the pre-meeting setup, and that's a process should follow with every meeting - whether in-person or via video.
Following these simple steps will give you the foundation for success. Be sure to download the PDF under Additional Information to help you remember these steps.