Thank you for attending the session!
Below you'll find the takeaway sheet I mentioned.
If you feel the information I shared with you is valuable, then you may find these additional resources helpful! I've also given you, as EvolvedProfits members, free access to the Grow in Crisis course and a recap of our session within the Academy – just follow the instructions.

A private membership community for business professionals to explore and share the proven integrity-based approach of Same Side Selling.
Members gain access to The Same Side Selling Core, constantly growing library of Objection Clinics, Outside Experts, Monthly Coach's Corner with role play, and an entire ecosystem to help you and your team grow. I've included a free course on Growth in Crisis as well as a preview of the Same Side Selling Academy including videos that recap today's session. Enter code evolved to subscribe and save $100, which is being covered by Evolved Enterprise and Marc Freedman on your behalf.
Takeaway Sheet
To download a PDF of this printable sheet, click the below thumbnail. Then right click and "save as" to download the file on a computer. If you use Safari, you also have the option to click the share button to send it to your iBooks, or other apps you have that support a PDF.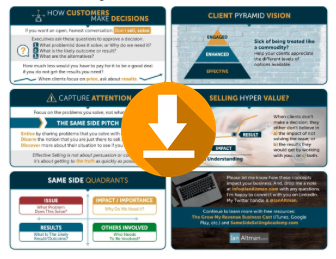 We don't require you to register on the site in order to receive the PDF.
Monthly Newsletter
Our monthly newsletter includes my recent podcast episodes, tips to help you grow your business, and other resources – and nothing spammy. Newsletter Sign-up Link
Weekly Podcast