the 90-day Same Side Selling Group Immersion Program
September 12, 2022
9 AM to 4:30 PM
Business Casual Attire
We'll be providing lunch.
I'll give you and your team the skills, practical exercises, and hands-on support to sharpen focus and discover how to grow revenue with integrity. Based on the proven Same Side Selling principles that have helped many companies accelerate their growth, this immersion program is designed to build a future-proof culture of selling.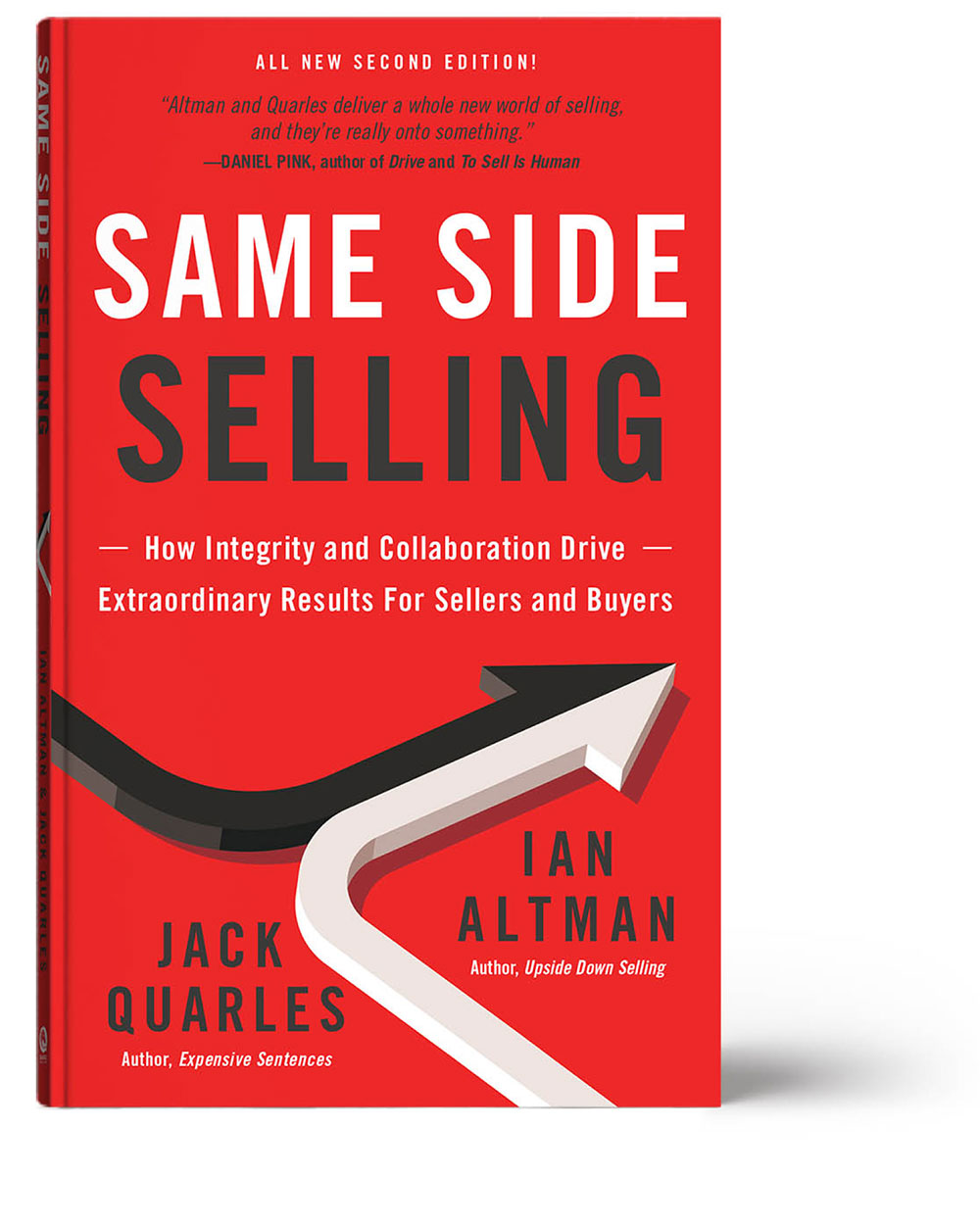 Investment: $3,500/company (2 seats)
+ $500 each additional participant
"We spent weeks trying different approaches on our own to reach a prospect who was ghosting us. They wouldn't return a single phone call, text, or email. In the Coach's Corner session, Ian suggested a new approach. We sent the message, and received a complete reply within 5 minutes."
- Amy Zydel, ExpoBranders
"Same Side Selling certainly changed the mental approach for our sales team, from selling services to solving problems for our prospects.  That change in our selling paradigm, the coaching, and open dialogue immediately impacted our business by helping us land our largest commercial account which had been stalled in the pipeline for several months."
- Joe Roamer, VP Sales, CSols
"We just landed our largest account since the beginning of our company. When we asked our team member what was the secret to his success, he said, "I just followed Same Side Selling 100%."
- David Campbell - Optimal Networks
"Our clients have embraced our sharp focus on impact and results. Ian's Same Side Selling has shifted our discussions from price to value.
We've landed on the Inc. 5000 five consecutive years by repeatedly growing more than 25% year over year and more than 400% in the past four years."
- Colin Egan, CEO, Centricity
"We engaged Ian Altman to speak to our entire sales and leadership team. Before we even got started there was some skepticism and initial reluctance about Ian's novel approach. Now, we've grown more than 55% over the past year, and everyone is singing his praises. Our highest performer openly admitted in a company meeting that after only two months, Ian's sales approach has completely changed the way he approaches sales - He's become even more successful."
- Howard Rogers, CEO, BrightClaim
You have great products/services, but you struggle to earn attention from your ideal clients.
You offer a superior solution, but clients see you as a commodity. You need to stand out.
You had a great discussion, and now they stopped responding to emails or calls. Now what?
What used to work, isn't working today. You need a modern approach that works.
Here's how the Same Side Selling Immersion Program Might Help…
Join the Same Side Selling Group Immersion Program
Investment: $3,500/company (2 seats)
+ $500 each additional participant
From $100 million to $600 million in Sales
Immersion Program Components
1. Assessment
Through surveys Ian seeks to understand where you and your team are getting stuck in order to focus on those areas where we can drive the greatest results in the shortest timeframe.
Based on that input, Ian will tailor specific topics to cover in the workshop. The session generally runs from 9 AM to 4:30 PM including lunch.
2. Same Side Selling Immersion Workshop
This immersion program will typically include topics designed to build a Future-Proof culture of business growth:
Better appreciate how executives make and approve decisions

Shift the focus to business-level discussions to engage the C-Suite and executive sponsorship
Introduce an approach for pre-meetings, discussions, and post-meeting follow-up aligned with customer decision patterns
Deliver an approach to shift the focus from price to value
Define a process to know which opportunities are and are not worth pursuing at a point in time
Address competition with integrity to help customers quickly recognize how you stand out from the competition
Identify specific steps for each stage of the sales process to evaluate opportunities and discover the truth efficiently
3. Reinforce and Adjust
Your participants get 60-days of access to the Same Side Selling Academy for reinforcement and additional learning. 
We like to stay a part of the process to answer questions and ensure that you achieve remarkable results.
For Example, share your progress with Ian and get his input to drive results: 
Elevator Rants and Same Side Pitch
Email campaigns
Client Vision Pyramid
Marketing ideas
Customer interactions
From A 6 Month Sales Cycle to 30 Days
Join the Same Side Selling Group Immersion Program
Investment: $3,500/company (2 seats)
$500 each additional participant
Sales teams and executives of products and/or service companies
Leaders of professional services firms (who may not see their role as "sales")
Sales professionals who want better to better manage and understand the buyer's process
Non-salespeople who want to boost their value for business growth
For maximum impact, the Same Side Selling Immersion program is limited to a small number of companies to ensure that each participant receives individualized attention.