Earning Attention and Selling Value Isn't Easy
Focus on the RIGHT opportunities

Rely on a playbook to swiftly handle obstacles

Watch as your clients
ROOT FOR YOU
Discover an approach that everyone can embrace — especially your customer.
Become a member
Enroll your team today and get instant access to the Same Side Selling Academy.
It doesn't have to be this way.
Measuring meaningless metrics like number of calls

Cold outreach that feels slimy 

Awkward scripts that sound robotic

Discounting every deal and eroding your margin

Or sacrificing your long-term reputation for a short-term win
Now, if you've managed to build to a certain point, but you're struggling to hit your growth potential…
And if you're tired of your prospects choosing to work with your competition even though you know your solution is superior…
You need to know two things:
Think about this: If "Sales" is a game that you are trying to win, then there has to be a loser, right?
It doesn't have to be that way.
Helped you increase your margins and shorten your sales cycles

Helped you reframe your sales conversations so clients are convincing you, not the other way around

ALL without having to have the so-called "sales gene" or resort to any old-school tactics that haven't worked in the past…
Would you take me up on that?
Welcome to the Same Side Selling Revolution
What you get in the Same Side Selling Academy:
All levels include access to these lessons and clinics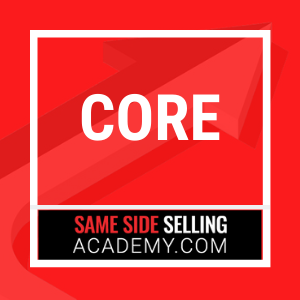 The CORE Lessons
A deep diver into the core principals of Same Side Selling.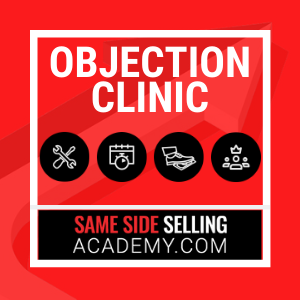 Objection Clinic
A series of micro-lessons on advanced topics.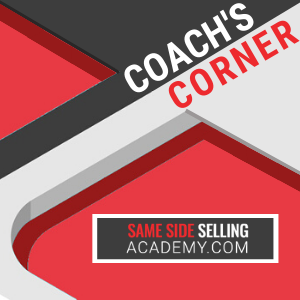 Coaches Corner
Monthly live recorded coaching sessions with Ian.
Same Side Improv
Practice real-world sales situations and reinforce skills.
In my experience, companies come to me looking for one of three different levels:
The Same Side Selling Academy
$999
/ year / member
A comprehensive platform for sales development that combines learning at your pace and live coaching/mentoring
Core material: 10 lessons that cover the revolutionary Same Side Selling approach to sales development
A playbook to handle the most common objections that get thrown your way
A monthly live coach's call to handle real-world scenarios
Interviews with outside experts to help round out your expertise
Detailed reporting to monitor and reward progress for managers, teams, and individuals
Go at your own pace, then join live for the monthly sessions to get feedback from Ian
The Same Side Selling Academy Executive Cohort
$5,800

$4,850

/Org
A six-week program delivered live
Cohorts are curated to avoid conflicts of interest
You'll get a plan to drive growth for your business
You'll develop a process to attract new clients
You will discover how to differentiate yourself from the competition
You'll map a trajectory that establishes your expertise
You'll be able to confidently navigate from first meeting to client onboarding
Your team will know how to sell on value and confirm results
Your company will have a process that earns quality referrals and repeat business
Get personalized feedback and benefit from the small group setting
Strategic Guidance


Quarterly commitment
Quarterly tailored solution.
Depending on your firm's specific needs, this ranges from $20,000 to $50,000 per quarter