Network of Sales Managers
Would you be interested in joining a network of other sales managers where you can share best practices? Fill out the form below to register your interest!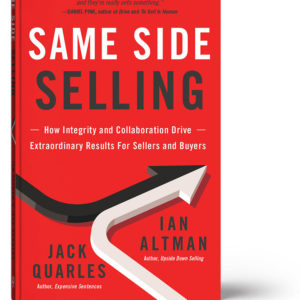 Sales team leaders and executives of products and/or service companies
Sales professionals who want better to better manage and understand the buyer's process
Sales managers who want to learn best practices for a successful sales team
"We spent weeks trying different approaches on our own to reach a prospect who was ghosting us. They wouldn't return a single phone call, text, or email. In the Coach's Corner session, Ian suggested a new approach. We sent the message, and received a complete reply within 5 minutes."
- Amy Zydel, ExpoBranders
"Same Side Selling certainly changed the mental approach for our sales team, from selling services to solving problems for our prospects.  That change in our selling paradigm, the coaching, and open dialogue immediately impacted our business by helping us land our largest commercial account which had been stalled in the pipeline for several months."
- Joe Roamer, VP Sales, CSols
"We just landed our largest account since the beginning of our company. When we asked our team member what was the secret to his success, he said, "I just followed Same Side Selling 100%."
- David Campbell - Optimal Networks
"Our clients have embraced our sharp focus on impact and results. Ian's Same Side Selling has shifted our discussions from price to value.
We've landed on the Inc. 5000 five consecutive years by repeatedly growing more than 25% year over year and more than 400% in the past four years."
- Colin Egan, CEO, Centricity
"We engaged Ian Altman to speak to our entire sales and leadership team. Before we even got started there was some skepticism and initial reluctance about Ian's novel approach. Now, we've grown more than 55% over the past year, and everyone is singing his praises. Our highest performer openly admitted in a company meeting that after only two months, Ian's sales approach has completely changed the way he approaches sales - He's become even more successful."
- Howard Rogers, CEO, BrightClaim