To become a subject matter expert (SME) you need to have specific knowledge that makes you important and useful to an organization. To clarify the role of an SME, consider three common selling personas: an order taker, a salesperson, and a subject matter expert.
An order taker will simply provide the customer with the price, take the order, and tell them when to expect delivery. A salesperson focuses on convincing the potential client that they need the product or service they have to offer. An SME sets themself apart with their expertise. They are seen by clients and their organizations as a trusted source of information about that topic.
If you're already an SME you probably love sharing your knowledge and skills with your company and clients, but have you ever wondered if you could be doing more to increase your value?
The number one difference between the average SME and a top-performing one is that top-performing SMEs do more than share their knowledge. They also help their company bring on new clients. They do this by gaining some of the following skills and characteristics that the most valuable SMEs have.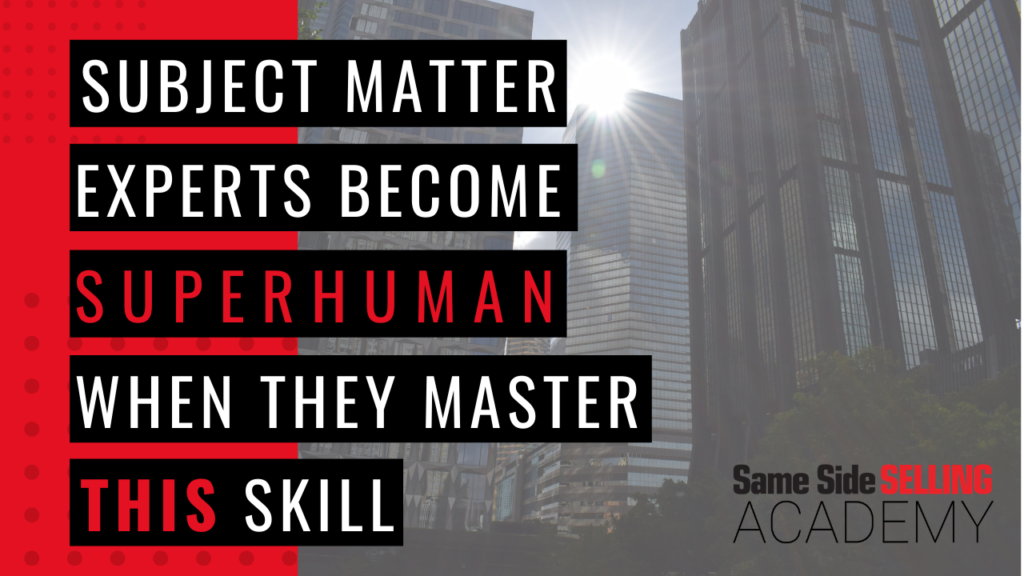 Characteristics of a top-performing SME
A lot of SMEs cringe at the thought of taking part in the selling process. Why? Well, most approaches to selling have not historically been based on integrity. And a good SME is not about to jeopardize their reputation by engaging in manipulation. But, if you've worked to become regarded as the go-to expert on certain topics you don't need to be concerned about coming off as a typical salesperson.
Gaining deep expertise in your area makes you attractive to clients in a way that being a great salesperson will not. While some executives resist meeting with a salesperson, they will gladly meet with an SME to gain insight and help to solve their problem.
To set yourself apart as an SME you should never agree to do something that will put your integrity in question when working with clients. Because you are in the business of problem-solving, you should always view things on the same side as your clients and only work with those who can truly benefit from the product or service you are providing. Because of this, it's important to find a company whose sales process is based on integrity and transparency.
A top-level SME knows that you shouldn't have to use persuasion to make a sale. Learn to connect with a prospective client effectively by getting to the truth about what you or your product can do to help as quickly as possible. This approach builds trust while making sales.
A great SME makes it easy to share sales processes with clients openly. By always taking the approach that is in your client's best interest, there will be no need to worry about being open and transparent with them. This increases your currency as an SME and makes your company more attractive to potential clients.
A top-quality SME wants to find clients who can truly benefit from their product or service. Lean into your problem-solving skills and allow them to drive you towards clients you can help. When you have this kind of narrow focus, you find the right opportunities to efficiently use your resources.
To enhance your value as an SME learn to take initiative. As an expert in your field, you don't need to wait to be told what to do or what leads to pursue next. Become confident in your skills and be willing to find and pursue opportunities where you can make a difference. Create and follow processes that make following up with clients automatic and easy so that you aren't dropping the ball and causing your client to lose faith in you.
As a valuable SME, you are great at uncovering problems and finding solutions, regardless of the source of the solution. When you develop this mindset, clients will be jumping at the opportunity to meet with you because they know you will not convince them to do something that isn't in their best interest. You'll become the go-to expert for your clients which will, in turn, lead to more business for your company.
Share Your Story
How have you increased your value or strengthened your skills as an SME? Share your thoughts in the comments.