I hope you enjoyed our session together.
Below is the infographic I used during the session.
Summary Infographic for Today's Session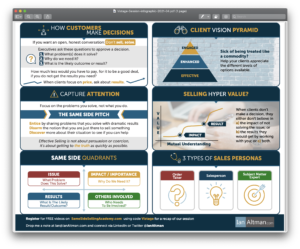 My Video Production Setup
Click HERE to open a separate tab with a list of my video production setup.
Schedule a Call
As promised, it's your 20-minutes to help in any way I can. Use the calendar to pick a time that works best for you.
7 sales scripts to
double your revenue
It can be harder than ever to know what to say when you're talking to a prospect. That's why I've put together these scripts. Enter your name and email address to access the scripts immediately.
The Same Side Selling Academy Executive Cohort
Then, keep reading. This is for you.
You have a great business that should attract new clients
You're a trusted resource. Your current clients love you.
You know that business-as-usual won't drive the growth that you know is possible.
That's not your fault. Thankfully, it's a solvable challenge.
Welcome to the Same Side Selling Executive Academy
Master an approach to growing your business that everyone can embrace... especially your new clients
Define your market

Narrow your focus to the clients who you know will greatly value your approach 

Attract your ideal clients

Do you ever worry that your message sounds too much like everyone else's? Use this tool to help you figure out how to stand out

Leverage Referrals

And bring in more clients without reaching out individually

Establish Your Expertise

And learn how to create a never-ending stream of content that will bring clients to you
Get a plan to strengthen your business.
Differentiate from the Competition

Execute a Content Marketing Strategy
Navigate from First Meeting to Onboarding

Sell on Value and Confirm Results

Earn Quality Referrals and Repeat Business
"Within three years of adopting Same Side Selling, our sales grew from $17M to over $100M without adding a bunch of salespeople."
-HOWARD ROGERS, CEO + President of BrightClaim
Better conversations = Better results
If you landed one extra client per quarter, what would that mean for your business? If the value of that incremental growth wouldn't pay for this investment many times over, then it may not be for you.
"Ian gave us the concepts and tools that turned engineers and consultants into our top revenue generators."
-DAVID CAMPBELL, COO of Optimal Networks
We're capping registration at 12 firms
Think of this as the guidance you need to propel your firm forward. This is highly interactive. We're going to meet every week for six weeks, and the people who will get the most out of it are the ones who will be joining us live.
Each session will be recorded, transcribed, and available for replay until December 1, 2021.
7-week program starting September 14
$6700 $4850 USD for Vistage Members

1 to 3 people per company
Week 1 - Define your ideal clients and the language for the questions you address for them
Week 2 - What makes you unique in your space? Establish your Client Vision Pyramid
Week 3 - How to attract your ideal clients and map out your content marketing strategy
Week 4 - Video, webinars, and technology
Week 5 - Client Success Roadmap - From first meeting, to 2nd to asking for business
Week 6 - Confirming results, seeking referrals, developing centers of influence
A month later we'll reconvene to check in and make adjustments
Fee: $6700, discounted to $4850 USD per firm for Vistage Members - reserve your spot
This is a zero-risk program.
If you don't feel like it's right for you after the first session, then let me know that you want to cancel, and I'll refund you 100%.
"We were not growing as fast as we wanted. Only 20% of our Small Business team was hitting their number. We brought Ian in for our national sales meeting. One year later, our growth has skyrocketed and 90% of the Small Business team is hitting their revenue goal."
-JASON WALKER, Chief Revenue Officer, GPS Insight