Do you find yourself resorting to any of the following?
Sending hundreds of messages

Hounding your prospect

so they finally take your call, but don't take the next step

Sending LinkedIn Messages

that don't align with your personality
I've been on the receiving end of hundreds of cold outreach messages like these.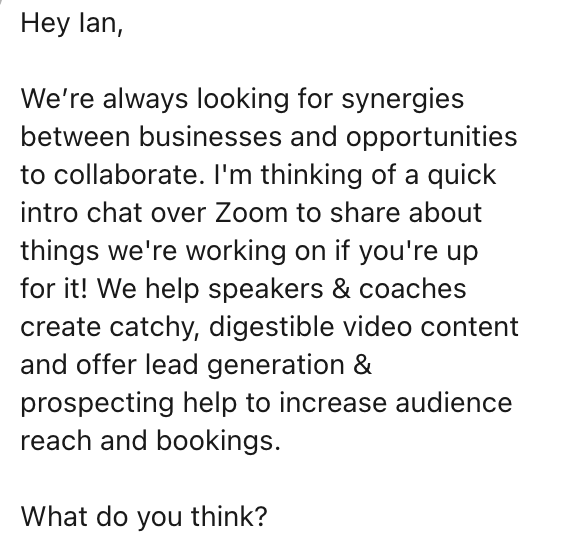 Synergies. Collaborations. Elevator pitches.
They so rarely work.
Why?
Well, none of them went to the trouble to figure out if I have a problem they can help me solve.
The vast majority of cold outreach misses the mark. And I don't understand why people keep doing it, when they're not seeing the results they want.
The part I don't understand is how much time is truly WASTED on this kind of approach, when there's a better way.
See, the framework I teach in the Same Side Selling Academy can be extrapolated to cold outreach.
Imagine spending less time on outreach, but having that time result in more sales conversations.
The Same Side Selling Cold Outreach Playbook
Everything you need to turn cold outreach into something that works.
Get it today for only...
$249
(Free for Same Side Selling Academy members)
"Within three years of adopting Same Side Selling, our sales grew from $17M to over $100M without adding a bunch of salespeople."
-HOWARD ROGERS, CEO + President of BrightClaim
The goal of cold outreach: Have some level of interaction with a prospect to see if they have a problem you're good at solving.
That's it.
And that's where so many people get it wrong.
They've learned what to do once they've gotten someone on the phone.
But getting them to that point in the first place?
That's what the Cold Outreach Playbook is all about.
No more "spray and pray"

Stop reaching out to anyone and everyone

No more spam

Stop reaching out to anyone and everyone

No more mail merge

Take a strategic approach
"Ian gave us the concepts and tools that turned engineers and consultants into our top revenue generators."
-DAVID CAMPBELL, COO of Optimal Networks
Stop wasting time on outdated outreach methods that don't work. Follow this playbook, make it your own, and start having more productive conversations.
The bad news is, most people suck at cold outreach.
The good news is, most people suck at cold outreach.
Which means, with the right strategies, and a little bit of work, you'll stand head and shoulders above the competition.
So join us live. We'll cover a lot in 90 minutes, which is why you'll have lifetime access to the Cold Outreach Playbook.
What kind of language they use

The 10-20-3 formula for cold outreach on the phone

The exact email templates to use

When and where to add humor

Why you shouldn't track the number of emails sent

The best way to measure results
This will be interactive.
There will be pre-work.
There will be homework.
And by the time you're through, you'll have everything you need to start sending better, more targeted emails and messages that will cut through the noise.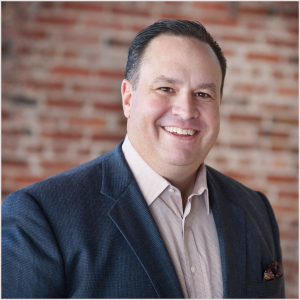 The Same Side Selling Academy is based on concepts I've developed over working with and developing a deep understanding for the way clients buy. And that's not always aligned with the way salespeople sell.
I was a CEO for two decades, and used these techniques to grow my companies from zero to over $1 billion in value. My success, backed by years of researching how customers make decisions, established me as an authority on accelerating business growth.
Organizations I've worked with have achieved remarkable, measurable growth using my integrity-based approach.
I've channeled all of that into a system that helps salespeople in all kinds of industries hit their targets, and more importantly, sell in a way that aligns with integrity.
"We were not growing as fast as we wanted. Only 20% of our Small Business team was hitting their number. We brought Ian in for our national sales meeting. One year later, our growth has skyrocketed and 90% of the Small Business team is hitting their revenue goal."
-JASON WALKER, Chief Revenue Officer, GPS Insight